Let's do the scene from Ghost together,
(I'll be your Whoopi)
Yes, today we are talking clay. Now, the clay week was always my worst section in any art class and while I was addicted to Sculpey as a child, the results were less than beautiful. I actually recently bought Sculpey and am really excited to play around with the results, however, I try to keep these newsletters free of anything you have to buy specifically, so today, we are making our own clay.
There are two types of clay that you can make at home; air-dry and baked clay. I prefer working with air-dry. It's easier to sculpt and get nice lines and edges. Originally, I was going to do an air-dry clay tutorial, but while the clay seemed to work well, when it dried it simply crumpled. I am going to play around with more recipes and if I get a foolproof one, I will share it in the future, but especially if you are doing this craft with kids its a huge bummer if your final pieces don't work out. While I don't like the aesthetics as much, baked clay is more stable.
This recipe is for a salt clay which might sound familiar. You have probably made this before. Maybe with a baby sitter or at school, especially around Christmas time as this is often the base for a Christmas ornament DIY. I am not sure that I have, but I also grew up Jewish so not a ton of Christmas crafts are in my wheelhouse. Even if you have made this before, you might have not made the dough yourself or you might need inspo for what to make (Christmas is a ways away.)
To start your dough, get flour, salt, cooking oil, and water. Optional, food coloring. You can make as much or a little clay as you want but make sure to keep these same ratios. I used ½ cup of flour, ¼ cup salt, about ¼ cup water, and ½ of a tablespoon of oil. Start by combining the flour and salt. Then add the oil and finally add the water slowly. If at any time there seems to be excess water, stop adding.
At first, your clay will seem chunky, make sure it combines totally. There should be no clumps or crumbles by the end of your stirring. If you aren't afraid to get your hands dirty, you can also mix with your hands, I think it works a bit better but it's a mess. If you want to add color to your clay you can add food coloring at this time. I chose to paint my pieces after they were made, but you need to use acrylics to have them stick well to this type of clay and if you are worried about using acrylics with kids or don't have them, food coloring will give you some fun colors.
Once your dough is one unified substance, you are ready to shape. I made 3 easy pieces that I am going to teach you, but you can make anything. Get as creative as you want here, but make sure your creations aren't super thick. They will not bake through if they are too thick. If you want to follow along with what I made, I am making 2 incense holders and a jewelry holder. I wish I took more photos of making the shapes, but my hands were a mess.
For the first incense holder (bottom left,) I made roughly the shape of a leaf. I then pinched the rounded end to make a little stem. I then made a hole with a stick on incense. I wanted to have a little fun with it so I propped one side up on a little ball of tin foil.
For the second incense holder (top left,) I made a circle and then added lips and a brow line to the circle. I then poked the stick through the lips and the base.
The third piece, the jewelry holder (on the right), I had to cook in two pieces. For the base, make a circular disc. You can even use a glass as a cookie-cutter if you are having issues shaping it. I then pinched the edge of my circle upward and added a little mound in the center. For the top of the holder, I made a little cactus by making three pipes (one longer and thicker than the other two.) I then gently pressed the ends of each pipe so it would be flatter. I then attached the smaller pipes tot he lager pipes by pressing and then blending the clay until you couldn't see the line where they were attached.
When you are happy with your shapes. Cook the clay at 250 degrees F for about an hour. Check on your pieces a couple of times throughout the hour. If the cray looks like it is cracking take it out, it is overdone. Mine took about an hour and 20 because my cactus and lips were on the thick side.
Let your pieces cool, because they will be very hot. Once they are cool, you can decorate. I decided to use acrylic paint. I am not a great acrylic painter. It was my second worst medium in art class after clay (I was always a watercolor, gouache, collage type of girl), but it works well here and I kept the colors simple on these so anyone can do this with no artistic skill needed. That being said, get creative with these, go wild. A quick note, about the painting step. You don't want to use too much paint or a wet brush, because the moisture might get back into the clay. If it does, it should redry out, but your clay will feel wobbly on the inside until it does. I would try to do only a layer of paint on the majority of the piece if possible.
Before I could paint, however, I had to assemble my holder. I used a sanding block to make the ends a little flatter. When it was flat enough, I attached the two pieces with some hot glue.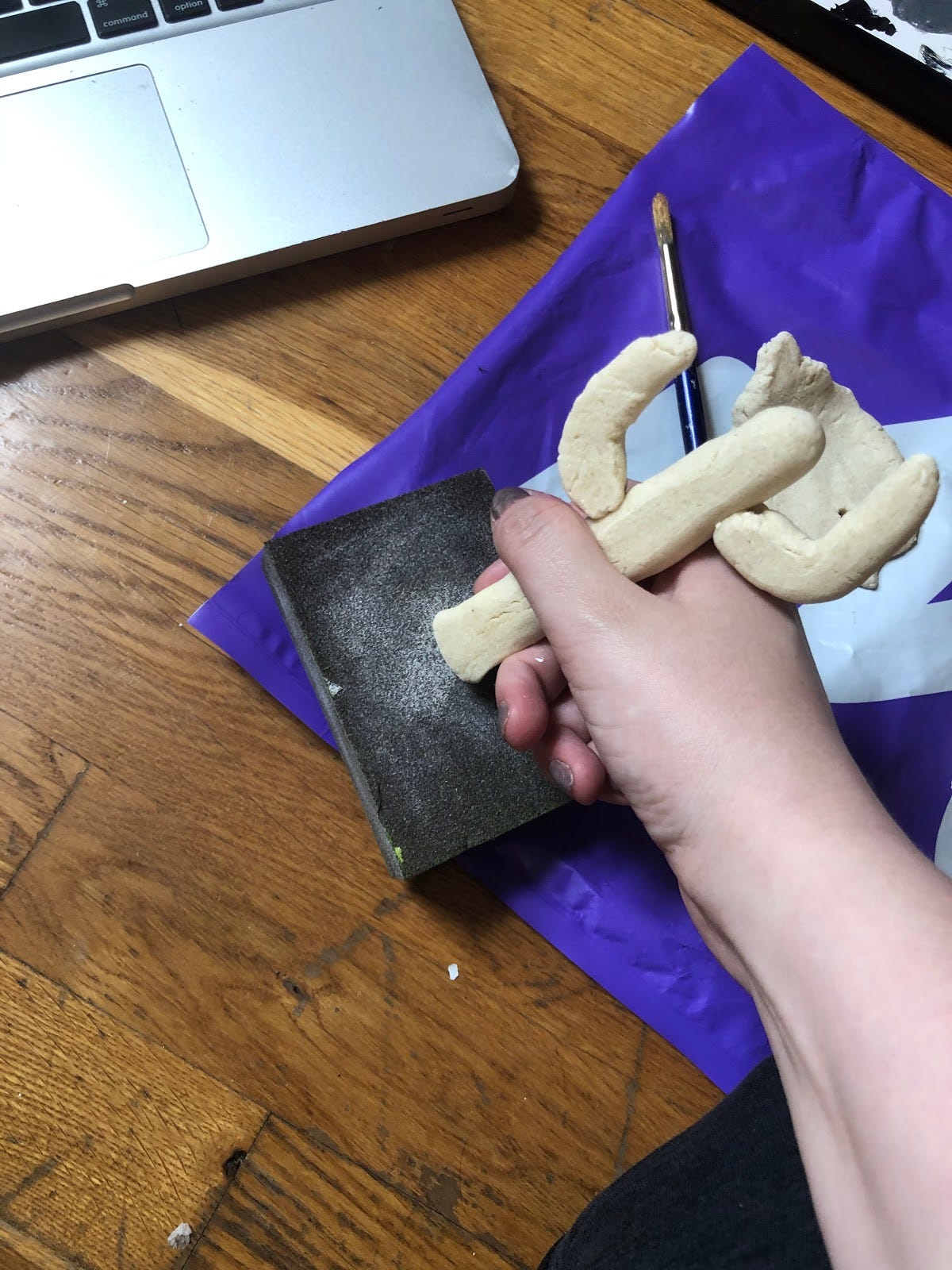 While the hot glue was setting, I turned my attention to painting to the other two. For the face-shaped incense holder, I gave the base a neutral color and then added colorful details to the 3D aspects. I made the browline blue and the lips red. I also added little red cheeks. I also gave her a hairline on the top in a deeper blue than her eyebrows. When the paint was dry I added some small details and outlines with a sharpie.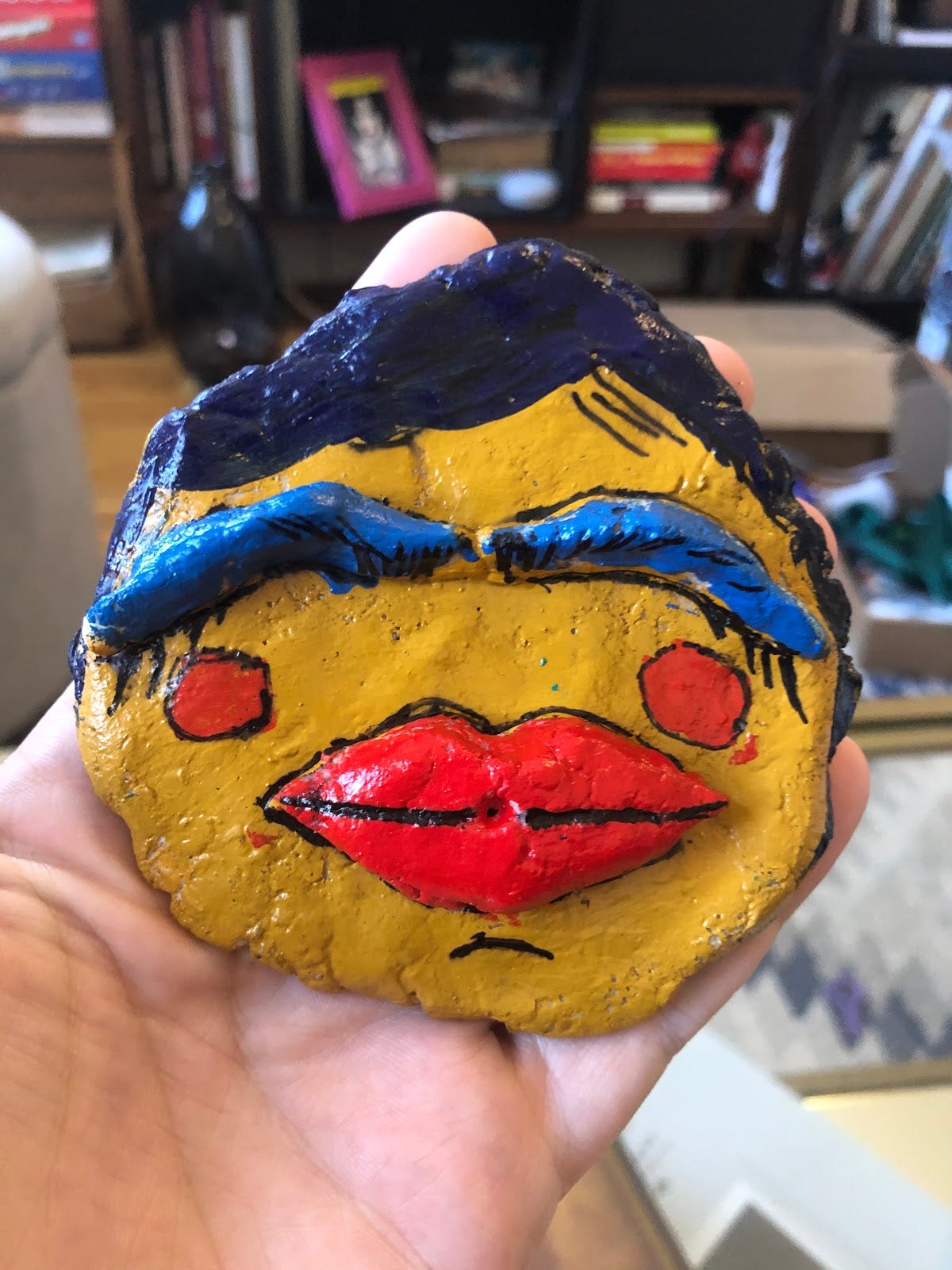 The leaf incense holder is probably the easiest to paint. I painted it green on top and then added a line down the middle and three lines coming off each side in a second green. On the underside, I painted the part of angled up the second type of green I used. I then added a couple of sharpie lines.
For the jewelry holder. I painted the outer ring of the base red and the inside ring of the base a sand color. I then painted the whole top part dark green. When it was dry, I added a couple of streaks of my lighter green randomly around the cactus. I finished it with some sharpie details (mostly randomly placed V's).
When your pieces are done and dry, they are ready for use.
Hopefully, this was a fun one. Sometimes with these types of crafts that are so far outside my artistic comfort zone, I have to remember that crafting is a lot more about the act of making rather than the final result. Maybe, it's not fine art, but I had a blast making these and experimenting with mediums that I usually shy away from. Also, I have started making quick TikTok videos to go along with most of my Craft Cult crafts. If you are a visual learner, I think they might help and I also do some paintings on there if you would like to check it out.
I only have a couple of plugs to end this one. It's about people I know who are teaching, maybe you want to learn to knit (or just even buy some hand-knit items) or learn more about doing accents. Honestly, so many people right now are making tutorial content and I love seeing it. One I was not asked to plug, but I am loving right now is a comedian who is teaching art to kids on YouTube.
I love seeing people's crafts, so always feel free to send me what you are making (you can through my website's contact form.) I am playing with the idea of getting some guest-curated or inspired crafts, so show me what you are into right now!
As always stay inside and stay crafting.